Dashboard Overview
Overview of the Home Screen
The Dashboard is made up of top and left navigation panes. The top navigation is made up of Canvas, Studio, Gallery, and Insights. You can get to the home screen anytime by selecting the home button in the top left-hand corner, above your user summary.
You can also add a custom link to your top navigation that acts as a shortcut to an external resource that is important to you. Click here to learn more about Creating a Custom Link.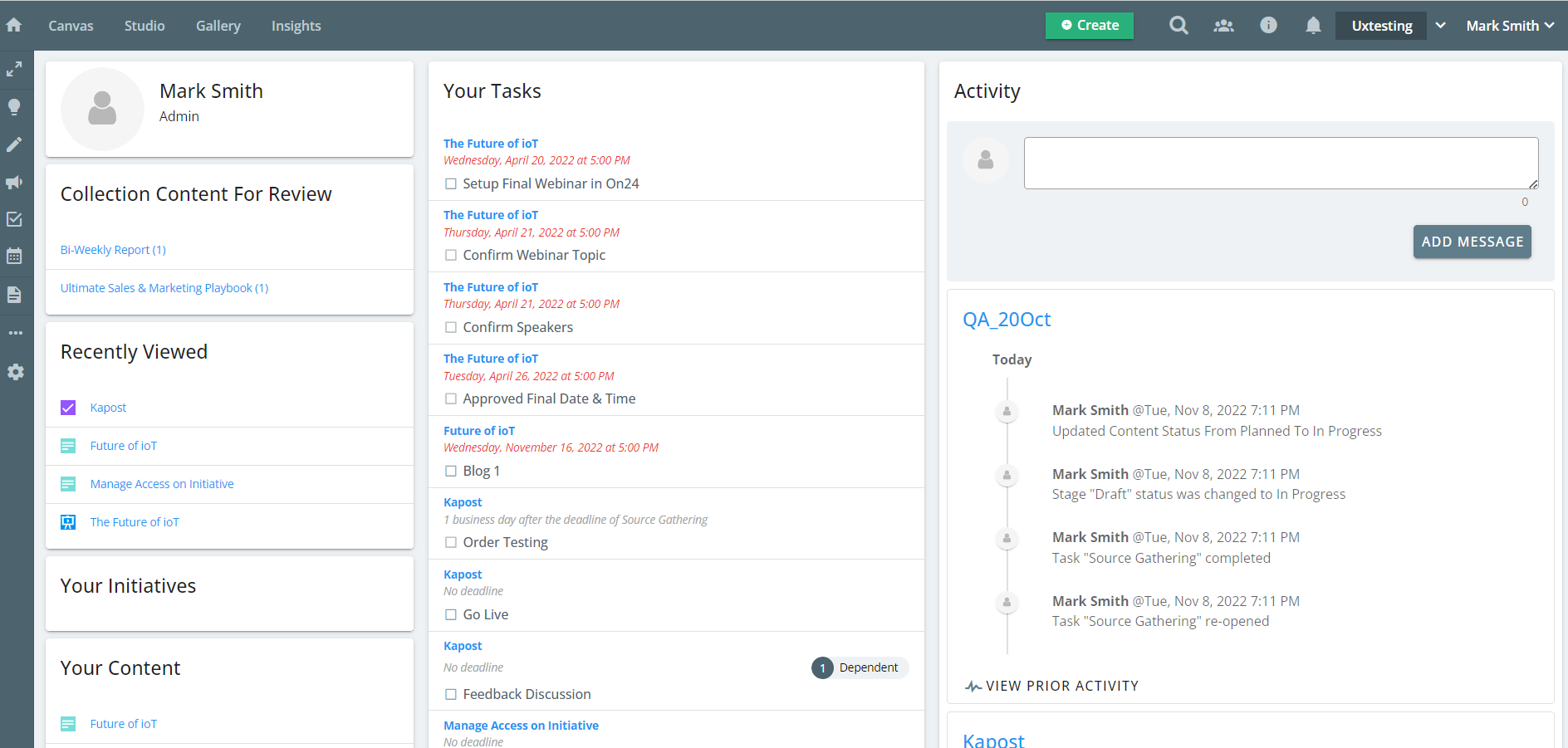 Recently Viewed - Content you have recently interacted with. This allows you to easily to work on content you are currently working on.
Initiatives and Content - Content where you are an assigned owner or another user has assigned to you.
Your Tasks - This are items assigned to you in deadline order, with the items due soon will appear at the top.
Activity Feed - various content assets that your team has been interacting with and what they have been doing.
Left Navigation
The Studio menu option displays additional navigation tabs so you can easily access content relating to your tasks, initiatives, and ideas. Depending on your access levels, you will see some or all of these menu options.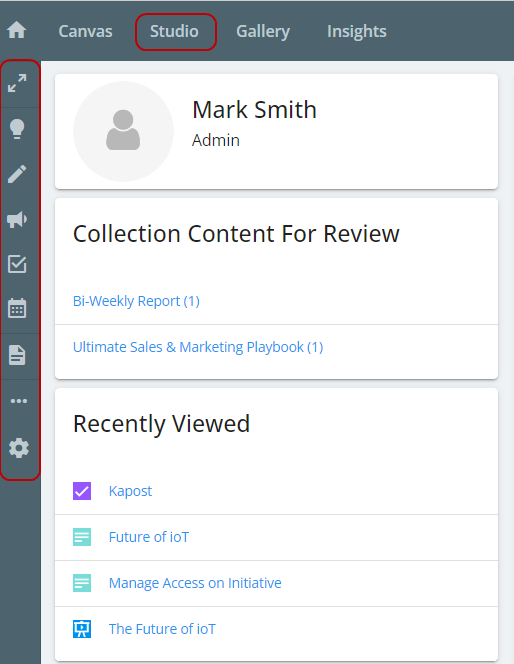 Ideas Catalog - Allows you to see a list of all the ideas that have been collected inside of Kapost.
Content Catalog - Lets you see all assets available, whether planned, in process, or complete.
Initiatives Catalog - Lets you see all initiatives available, whether planned, in process, or complete. Initiatives are a way to group content together. (Based on product launch, event, etc.)
Calendar - Shows a different way to show tasks assigned.
The More option allows you to access the Personas screen.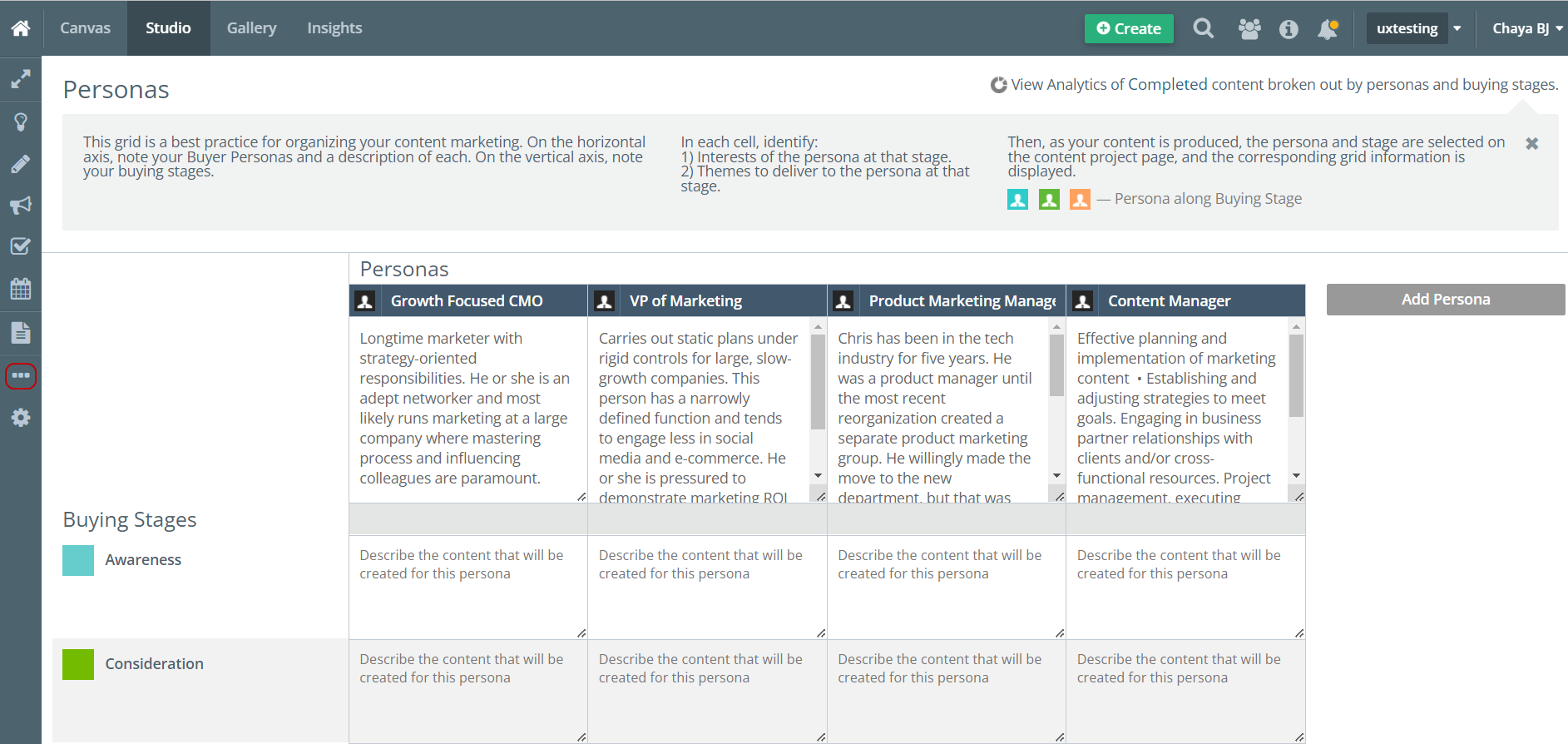 Left-side Navigation
| | | |
| --- | --- | --- |
| | Toggle Navigation | Open the left navigation bar to view options |
| | Ideas | Gather ideas and requests in one central area |
| | Content | Develop content associated with initiatives |
| | Initiatives | View initiatives you have access to view |
| | Tasks | To do items associated with initiatives and content |
| | Calendar | Tasks can be viewed on a calendar by deadline |
| | Settings | View Administration controls |
Top Navigation
| | | |
| --- | --- | --- |
| | Members | Manage Member Access |
| | Help | View the Help Center Documentation |
|   |   |   |
The icons that appear on the right end of a content type's row let you perform certain actions
| | | |
| --- | --- | --- |
| | The pencil icon | enables you to edit the content type |
| | The pages icon | enables you to duplicate the content type |
| | The trashcan icon | enables you to delete the content type |
The Studio tab is located in the top navigation of your Kapost Dashboard. It is where you can access the Ideas, Initiatives, Content and Task Catalog.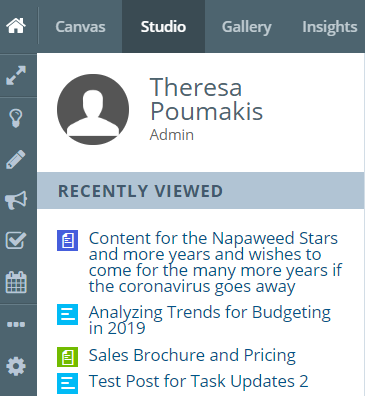 The Studio tab is where you will be managing tasks, submitting ideas, and creating new content.