Basic Terminologies
The idea of this page is to introduce you to the words you will come across while using Adestra. Each of the terminologies are well-explained in their individual chapters further ahead in the documentation.
Following are some of the terminologies used in Adestra:
Account Structure
The Account Structure in Adestra is to segregate your email campaigns in a structured way. This helps in effective and hassle-free management of campaigns. The use of a multi-layered structure, makes it infinitely scalable. After you login to Adestra, you will land on your Account page. This page displays your Workspaces, which contain your Projects, and projects contain Campaigns.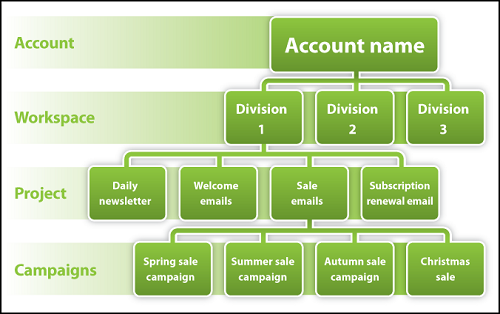 Contact Data
Contact data is the central point of your email marketing strategies; they are the recipients of your email campaigns.
The contact data in Adestra is stored in a Core Table. They contain one record for each of your contacts, consisting of at least an email address and an assigned ID, though a number of fields specific to your data can be added.
We also have Data Tables, these act as an extension to your Core Table. If you have additional data, that isn't necessarily relevant to all of your contacts, Data tables provide a way to include this information while keeping your Core Table manageable.
Campaign
Campaigns are the marketing emails that are sent to contacts when promoting a brand or business, created individually within your projects. Using Adestra, these campaigns can be created, launched, tested and reported. Furthermore to analyse and encourage client interaction by aiming to boost email success rates.
Content
The Content of a campaign is the HTML content for your campaign. You can build and use your templates for the Email Editor, using the HTML Editor to coding in the Source Editor. Additionally, there is help on how to include conditional content to incorporating additional functionality, like integrating social media into your campaigns.
Form
Forms are a way of both capturing and managing your data. Bringing in both new contacts and ensuring the ones you have are happy with what they already receive.
Whether it's a sign-up form, preference centre, competition entry or other—it gives you a chance to learn more about your customers. You can then use that data to send them personalised, relevant and timely campaigns, helping to increase engagement and ROI.
Reporting
The Adestra reporting interface provides an overview of activity from across the whole account, displaying a variety of statistics that let you assess the performance and response to your email marketing. This gives you the information to identify areas of activity and success, helping to benefit and influence future campaigns.
Automation
At its core, Marketing Automation is the goal of software that automates your marketing practices—simplifying working processes by using software to do otherwise time-consuming work.
File Manager
The File Manager is where you can store your files for use in your campaigns.